Announcements

MGVR 2018 FOCUS EVENT
VARAC VINTAGE GRAND PRIX
The MG Vintage Racers (MGVR) have selected VARAC's "Vintage Grand Prix" at the Canadian Tire Motorsport Park in Ontario, Canada, (Northeast of Toronto) the weekend of June 14-17 for our 2018 "Focus Event".
A "Focus Event" is an annual MGVR designated race weekend where all MG racers (and MG supporters) are encouraged to attend. It is complimented by including MG races and a variety of MG social activities and awards, including the Canadian "Simms Cup" for MGs. A large turnout of MGs will be racing, along with many other great vintage race cars!
The tentative schedule calls for three days of racing - including "All-MG Races" and a "MG-Triumph Challenge Race"!
Non-racing activities will include: Thursday evening's MGVR "Meet and Greet" social at "MGVR Central" in the paddock; a "Whistle Paddock Tour" on Friday evening with food and beverage stations located throughout the paddock; and a Saturday evening "Banquet"; (It's a lot more FUN than just racing!)

Contact information:

VARAC: www.varac.ca/vvgp/2018-vgp


MGVR: www.MGVR.org


Track Info: www.canadiantiremotorsportpark.com

Watch this space for further details as they become available.

Press Release

MGVR NEWSLETTER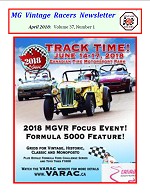 Volume 37, Issue 1 of the MGVR Newsletter is
now available for online viewing and/or download!
Inside this issue:
- 33rd Collier Cup Race with SVRA at Watkins Glen
- MGVR Focus Event 2018
- MGVR Focus Event 2017
- Remembering Will Bowden
- MGVR Focus Event 2018 Bulletin #1
- VDCA's Veterans' Day Historics - by Bob Spruck
- Maintaining Your MG Race Car - by Dave Smith
- Remembering Syd Silverman
- Remembering Otto Linton
- Remembering Roy Jacobson
- And more!