Announcements

Press Release: Celebrating 35 Years of the MGVR Newsletter

1981 - 2016

This just in...
MGVR 2017 FOCUS EVENT
VRG Historic Races at the
New Jersey Motorsports Park in Millville, NJ
September 15-17, 2017
The tentative schedule calls for group racing along with Two All-MG Races. Non-racing activities include Thursday evening's MGVR Meet and Greet at MGVR Central, a Saturday evening Craft Beer Tasting at the Millville Army Air Field Museum followed by VRG BBQ at the air museum. MGVR joined VRG in 2008 for their inaugural Historics-we are pleased to join them again in 2017!
Watch this space for further details as they become available.

MGVR NEWSLETTER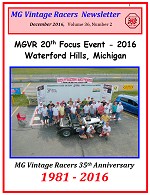 Volume 36, Issue 2 of the MGVR Newsletter is
now available for online viewing and/or download!
Inside this issue:
- Celebrating MGVR's 35th Anniversary!
- 2016 Collier Cup at Watkins Glen - Steve Konsin
- David Holmes Awarded McGregor Award by VARAC
- MGs & Vintage Racing - Greg Prehodka
- MGVR Tech: Tire Loads & Speed Ratings - Dave Smith
- CSRG Charity Challenge - MGVR 2016 W/Coast Focus Event
- MGBs at the VDCA 2016 Season Finally - John Fontanella
- MGVR at Canadian Historic Grand Prix - Dave Good
- Number 42: MGA Sebring Coupe Tribute - Bob Coleman
- And more!