50th Anniversary of the Collier Cup at Watkins Glen

MG Racers Lived a Dream
~ at Watkins Glen this September ~
(You were a Winner - Just by Being There!)

By Greg Prehodka - MGVR

Its roots started in 1954 when the SCCA established their annual "Collier Brothers Memorial Trophy Race" for MGs. The momentum for the 50th Anniversary celebration of it got rolling about a year and a half ago, as four MG racers personally committed to making it all that it could be, at SVRA's "Collier Cup" MG race at Watkins Glen, NY. Mark Palmer - head of MGVR, Dick Powers - CC04 event coordinator, Greg Prehodka - MGVR Publicity, and Bill Hollingsworth - MGVR advisor, all banded together and were determined to make a dream come true. I'll spare you the details, but these four enthusiasts - and their supporting cast of SO MANY others - did TONS of work and dedicated themselves to the event. Its significance wasn't just 143 MGs racing at Watkins Glen that weekend - it became an "MG Happening" - in so many ways - the likes of which had never been seen before - and which may never be seen again! Dreams came true that weekend!
Many thanks for the work everyone put in to make the 50th Anniversary Collier Cup at Watkins Glen the huge success it was. It surpassed all expectations and will be the standard by which other shows will be measured in the future. It turned from a show - or an event - into a "Happening"- just like Woodstock! I was at the 40th Collier in 94 and the 50th Glen in 98 and figured they were the tops - but this one will be hard to beat.
- Eugene Myszkowksi, MGA #440
For those who were there, - you were part of the magic. The memories and lore of this event will live on for many years! The following article will spin a tale of that incredible weekend - as the people who were there share with you - in their own words - the spirit of the most INCREDIBLE MG RACING WEEKEND EVER!
Hollywood couldn't have script it any better! 143 racing MGs showed up at Watkins Glen for the 50th Anniversary Celebration of the "Collier Memorial Trophy Race" - to compete in the Sports Car Vintage Racing Association's (SVRA) "Collier Cup" all MG races, as part of their "Zippo Vintage Grand Prix" race weekend. This year they had to have TWO Collier Cup races, due to the huge turnout of MGs - the largest MG race gathering EVER in North America! And the MGs were only part of the record breaking 524 vintage racecars which showed up to race that weekend! SVRA's respect for MGVR played a significant role in making all this happen.
Jack Woehrle, SVRA Technical Director, told me "MGVR is the best vintage group to work with - BY FAR! Nobody else even comes close! In fact there really is no second place ... you are the best!" SVRA placed a lot of trust in MGVR this year, giving us plenty of latitude on safety equipment, driver qualifications, etc -- and we responded well.
- Mark Palmer, MGVR Editor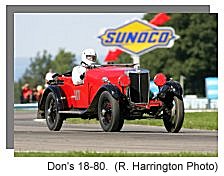 Add to the racing generous portions of the Watkins Glen Downtown Vintage Car Festival on Friday afternoon, with MG the featured marque - where thousands showed up to celebrate - the attendance of the New England MG 'T' Register, and NAMGAR members - not to mention so many MG enthusiasts coming on their own - and you couldn't go anywhere without seeing gaggles of MGs! All of this transpired under 3 days of perfect weather in the beautiful Finger Lakes Region of New York State! It doesn't get any better than that!
Many MG racers made special efforts to come. George Pardee reflects on Don Martine, who brought 3 Pre-war MG race cars from California, along with two other drivers:
Don - you did indeed contribute by making the long haul with your crew & MGs. It is always a thrill to see the Von Neumann TD Special, the NB is lovely, and the 18/80, a representative of the very first MGs, is only the second of its type I have ever seen. Bill Pollack, West Coast racer and friend & contemporary of the incomparable Art Evans, was introduced at the MGVR banquet, and I'm sure many of us bought his book, RED WHEELS AND WHITE SIDEWALLS. Ed Hugus is the first driver to win a Feature Race at VIR (August 3, 1957). It was an honor to meet him, and a pleasure to find him still ready and willing to climb into an MG race car - yours!
- George Pardee, (MGTF #166)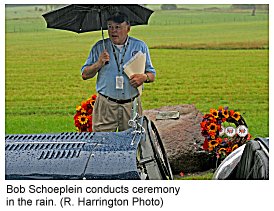 In the true spirit of the event, MGVR's Bob Schoeplein conducted a brief memorial service Thursday afternoon at the Collier brother's stone memorial on the original road racing course. About 130 people attended it. The stone and plaque were set in place in 1954 in memory of Sam and Miles Collier. Sam died at this spot when his Ferrari crashed here in the 1950 Watkins Glen races. Miles Collier died in 1954 from Polio. They were both significant players in laying the foundation of sports car racing - and MG racing - in the U.S.
Bob Schoeplein: When I first thought that a MGVR wreath at the Collier Brothers Memorial Stone would be most appropriate, I had no idea how many people would be touched by a memorial service. I could see in the faces of all who came their respect for the pioneering work of the Colliers and their ultimate sacrifice. I cannot fully describe the spirit of bonding that one could sense among the assembled observers. My theme was that the Colliers were joyous and fun-loving, and that we should take from their legacy the exhilarating joy of racing our own cars "on the open road."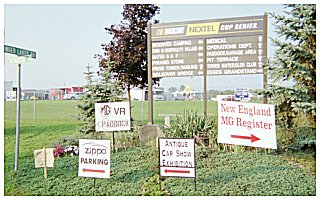 Thursday still had the remnants of Hurricane Francis, but it didn't stop some MG racers who drove through the rain to get there.
It was the individual spirit of certain racers that top my highlight list. The "T" racers who drove from Chicago - in their race cars - camped along the way, endured a 7" rain storm, raced, then retraced their steps home! They have MG spirit by the TRUCK LOAD ! The only name I know is Jeff Powell, but he and his buddies are my HEROES!
- Joe Tierno, MGA #029
MG racers were arriving and meeting and getting to know each other:
"We had a wonderful dinner at the Seneca Lodge on Thursday evening with Mark Brandow and his comrades from Minneapolis. I went to dinner not knowing any of them, and left with 6 new friends. What a great time!
- Jay Nadelson, MGA #595
Fortunately, Friday morning - and the rest of the weekend - you were always in jeopardy of getting a sunburn - and that with more than 3 MGs gathered together -which just had to be an omen that this was meant to be! MG racers were arriving on Thursday, and Friday, with some coming from as far away as California, British Columbia, and England! Some just had to be there:
What a wonderful event! I arrived with my car, wife, and two crew members in tow. We had scrambled to put a stock engine in my red # 1 MGB before leaving home as I had broken my race engine this summer. Had to pull the backup engine from one of my street MGs. Unfortunately, I broke the engine (spun bearing) on the third lap Friday morning. We thought we might have it fixed by Saturday morning but after 1/2 laps I lost oil pressure again (now I knew it was a bearing and not a stuck oil pressure relief valve).

    None-the-less, putting the stock engine in the car just so we could attend the event - ranks right up there with my best decisions this year. I am so happy that I did not miss this event!
- Jim Austhof, Red #1 MGB
Thursday and Friday were days to get settled into the special MG paddock at the track, get through tech inspection, and get some practice time on the track - learning its 2.45 miles of pavement - with 11 major turns. It's a smooth wide track which offers many lines for passing. The MG paddock quickly filled up and the MG Vintage Racers even had their own hospitality tent - with a photo display, videos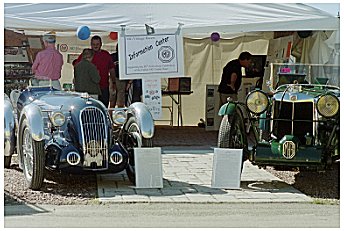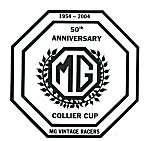 playing, and handout materials. As a special MG display, Miles Collier, Jr. sent two of the family's MGs up to the event from their car museum in Florida. Their "Leonidis" custom bodied MG-PA/PB - which raced at Le Mans in 1939 - and their MG-K3. Both were on display at the MGVR hospitality tent. And as a special commemorative of the event, MGVR had car badges made and were selling them with their regalia. Went like hotcakes - 150 were gone by Saturday morning.
Some of the MG racers arriving had special stories of their coming:
The highlight of the weekend for my wife, Chris, and me was sharing a once in a lifetime experience with our MG friends. This was the vintage racing Woodstock and we were there! I was absolutely floored when John Wright asked me to drive his 1960 Sebring Twin Cam MGA in the 50th Collier Cup Race. John had waited over 20 years to buy the car, then he and his wife Linda worked like demons to get the MG ready in just a few months! John and I have been good friends for over 25 years. That he trusted me with his MG on the racetrack after all he had been through to bring it back to life meant so much to me. Together we made a memory we'll take to our graves! You can't do any better than that in this life!
- Bob Vitrikas, MGA #40
Making the weekend even better, both the "New England MG 'T' Register" and the "North American MGA Register" were having their own gatherings in the Watkins Glen area this weekend, so their members could also witness MG racing history in the making. Both were overbooked with members wanting to attend their events! The T Register was also celebrating their 40th anniversary.
When the dates for the 2004 MG Vintage Racers Focus Event hit my desk in early 2002, the MaGic element took hold. 2004 would also be the 40th Anniversary of the New England MGT Register and combining our celebration with the 50th Anniversary of the Collier Cup Race at Watkins Glen was a no brainer! We booked all 130 rooms at the Lodge On The Green in Painted Post. .... By July 12th this summer, the Lodge was sold out! There were more than 300 pre-registrations for GOF Mk 77 and cruising the infield at WGI on race weekend, there were at the least, another 100 plus members taking in this - the most historic M.G. event in North America.

Yes, it was BIG! Yes, most venues were over-subscribed. And yes again, the Registers 40th Anniversary - combined with the MG Vintage Racers Focus Event and the 50th Anniversary Collier Cup Race - far exceeded the expectations of even the most seasoned M.G. enthusiast.
- Hank Rippert, Chairman, The New England MGT Register, Ltd.
NAMGAR would roll out a new racing award this weekend. They established the "Bob Bucher - Sherm Decker Memorial Cup" in honor of these two MGA racers. Sherm won the Collier Trophy in '56 and '59. Bob won it in '57 & 58. They were best of friends, strong competitors, and very evenly matched racers. The cup was unveiled at NAMGAR's wine and cheese party Thursday evening. It was an emotional moment for everyone there:
By far the non-racing highlight of the weekend for me was the NAMGAR welcoming wine and cheese reception. The fact that 148 people attended this welcoming reception, and when Mrs. Bucher and Mrs. Decker were introduced to help unveil the "Bob Bucher, Sherm Decker Memorial Cup" -you could have heard a pin drop in the room. After they spoke and said how pleased they were that NAMGAR wanted to recognize their late husbands, and how honored Bob and Sherm would have been --- there wasn't a dry eye in the house! It really was a moment captured in time!!
- Tim Coyne, Chairman of NAMGAR: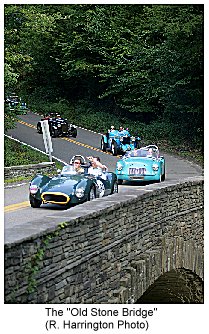 One of the highlights of the weekend for many came on Friday afternoon, with a parade of the original street racing course, and the Watkins Glen downtown festival, where MG was featured. About 150 of the vintage race cars at the track lined up to participate. So many racers wanted to go, they had to hold a "Lottery" to determine who would participate. Since MG was featured, MGs led off the procession with a representative MG of each model - in order of age - as police guided this group of race cars around the original Watkins Glen street course, and to downtown Watkins Glen and on a couple of parade laps before parking the cars on Main street, which had been shut down to traffic. Those in the procession had visions of how incredible - and DANGEROUS - the street racing in the early years must have been! What sights! What Sounds! Seeing the original street course from the driver's seat - even today - it makes you wonder how they use to race on those roads! It truly impressed many:
Having been to the Glen first 48 years ago I had missed the original circuit, but the atmosphere was present. The laps of the old circuit, with no helmet or goggles, was a thrill - the waving spectators around the whole track made the hair on the back of my neck stand up! I'm not sure whether the tears in my eyes were due to the wind in my face or the nostalgia of days gone by!
- Dr. Ron Watson, MG Midget #63

We had one lady with us from Newfoundland who got the chance of a lifetime to share Joe Lightfoot's ride around the old circuit on Friday - she was literally jumping for joy when she got out of that car! For any of you who've heard of Targa Newfoundland (the new road rally around the province of Newfoundland that began in 2002) the sight of the thousands of fans lined along Franklin St. reminded her very much of what the Targa is like. I also cannot imagine what it must have been like to take the Big Bend downhill portion flat out in those cars. Yikes!!!
- Nick Pratt, MG Midget #89

As you may know, I have had some connection with the Glen, having cavorted in the area as a youth, and recently having the privilege to help place the old course on the "National Register of Historic Places", so being able to participate in the incredible downtown festival and reenactment was unforgettable. Susanne, who generally clutches the grab bar at 0.03 G lateral, forgot any discomfort at my enthusiast touring the old course and was thoroughly caught up in the spirit and amazed at the crowds waving all around the old road course (she did allow that my new front sway bar added to her feeling of security).
- Jim Warren, Tyrolite Green MGA Roadster # 298

Riding with Carl George in his MGA on the old course was an experience! By then his clutch was slipping and the brakes could use an assist, but little things like that did not stop him from keeping up with the pack, and coming down that hill into the Glen is a little hard to describe unless you have jumped off a cliff with no clue of what waits below.
- Bob Coleman, MG TD 144

A special memory of the drive of the old course was the exhaust crud coming from a couple of supercharged cars that blackened the faces of many of those following (especially passengers without benefit of windscreens on their side). More than a few ended up looking like Nuvolari after the Mille Miglia!
- Manley Ford, TD #76

Somehow we were also able to get both of our MG Midgets into the Race Reenactment on the original street race course. Pam drover her MG with me as a passenger, while my Best Man (from our wedding this weekend) David Griffith, drove my mother in my MG. I guarantee you that my mother had the time of her life! She came back with black soot and the broadest grin smeared over her face! The event was special in so many ways and for our entire families - as well as the two of us. Thank you, MG Vintage Racers - EVERY ONE OF YOU!
- David Littlefield, Midget # 57 & Pamela Fontenot, Midget #29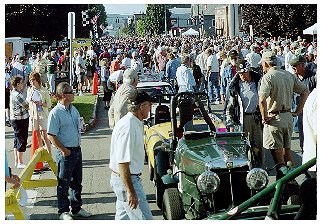 Main Street downtown hosted festivities most of Friday, as the race cars were parked there for a couple of hours, and it turned into one huge PARTY - with bands, food, speeches, celebrities, car shows, and THOUSANDS of people taking it all in. It was a "Happening" for many:
I was lucky to make the lottery for the downtown reenactment. While there, I re-acquainted with some familiar and not so familiar faces. One couple, Steven Adlerx and Fay Turner, approached me saying "We told you we would be here". I met them on a flight to the Dominican Republic - last year - and told them about the Watkins Glen Focus Event and MGs in general. Never saw them again until Friday. I was amazed that they indeed would come , and yet remember me!
- John Coryea, MGA #330

The tour downtown and driving the old street course was a tremendous experience - lots of fun. While downtown, I was approached by a man from New Zealand, who took the original Airline Coup body off our 1934 MG-NA in 1952! He knew the owner of the car for all these years and gave me his address. I hope to fill in the history of the car.
- Hank Giffin, MG-NA Special #431

The Downtown Festival was a definite highlight! Where else can you find beer for $1 -right next to your race car,-a pretty blonde who wants a ride, -and then smoke through town, twice, 5 feet from the crowd?

............ Thanks to all for the great time, great racing! (fastest Twincam on 'legal' wheels)
- Ralph Zbarsky, MGA #153/
The MG Vintage Racers' dinner Friday evening at the track's "Glen Club" was sold out, as around 250 MG enthusiasts attended it. Speeches were kept short, as it was a time to share a drink with friends, and relax for a while. Two significant awards were presented at it.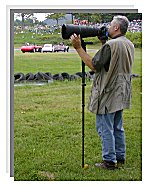 First was the "MGVR Spirit Award" - which is usually presented to a MG racer who is selected as participating in the "true spirit of vintage racing" - both on -and off the track. But this year, it was presented to Walter and Louise Pietrowicz who were totally surprised to receive this honor. They are photographers who specialize in shooting vintage races. And for many years they have supplied the MG Vintage Racers Newsletter with so many wonderful photos of MGs racing at speed from various vintage racing events. They are also friends with many of the MG vintage racers. And on their website - september8th.com - they post information about MGVR and MG racing. True supporters of MG vintage racing.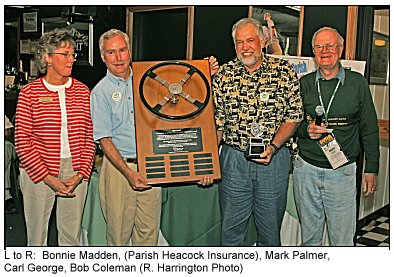 The second award was the new "Bill Parish Memorial Award". Bill was an early vintage racer with his MGTC in the 1980's - having fun doing it, and making it fun for everyone else - not concerned about winning in the least. He was a founding member of both SVRA and MGVR. He passed away from cancer in 1998. In honor of him this annual award has been established by "Parish-Heacock Insurance for Vintage Race Cars" to honor a MG racer with similar passion, selected as "Having the most fun and being a Master of Speed Deception, while racing their MG throughout the season - unrelated to any race winning."
MGA racer Carl George of Tennessee was selected as the inaugural winner. Carl started racing in a TD in 1982, and then took to his MGA soon after, and he is still competing with it today - although he has never won a race with it. His best friend, and retired MGTD racer Bob Coleman was at the presentation:
As I am not racing anymore, my highlight of the weekend had to be my good friend, Carl George, winning the very first MGVR Bill Parish Speed Deception Award, presented by Parish-Heacock Insurance. Bill and I helped Carl get started, and he drove his first vintage event at Mid-Ohio in 1982. He drove a "stock as a stick" 1950 MG TD he acquired in Australia. The only modifications were a set of C-clamps Bill put on the rear springs because the shackle bushings were completely worn out. A roll bar was added, but half of it was mounted in the wood behind the seat. After this initial outing, Carl moved to the MGA, which he has campaigned since. MGVR's choice was an excellent one, in my opinion.
- Bob Coleman, (MG TD #144)
And how did George feel about receiving the award: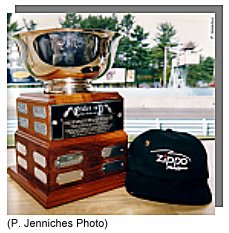 The highlight of my weekend - and of a 22 year vintage racing career - was receiving the "Bill Parish Memorial Award". Bill, Bob Coleman and I were the three founding members of Bill's "Zapata Racing Team" which was expanded later to include other vintage racers from Nashville, Tenn. It was very special receiving the award. I applaud Ford Heacock for honoring Bill Parish, who was a fun loving - twinkle in his eye - MG historian who would do anything to help a friend, vintage racer, or a stranger. I can honestly say I have found all the MG vintage racers to be a special "giving" breed of people.
When life is over, I think we cherish our special memories and I believe this weekend will be one of mine.
- V. Carl George, MGA # 107
As a special Collier Cup recognition, Jack Woehrle of SVRA presented all past Collier Cup winners with small replicas of the "Collier Cup" trophy - which gets passed on every year. There have been 19 past winners, and 11 of them were present at the dinner.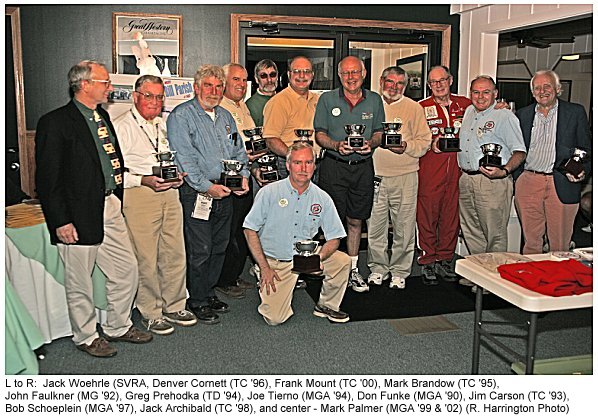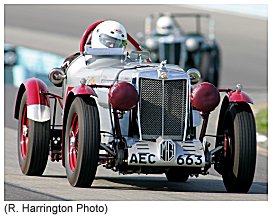 Saturday saw more practice, qualifying races, and it was a time to check out all the track had to offer, and to watch some of the other 524 vintage race cars. This track and its grounds are HUGE! This was FUN to the second power!
My racing highlight of the weekend would have to be having the pole position - and then winning the Saturday Pre-War race! I won a race at the 1960 MG only races at the Glen in my first TC, and it took 44 years for a repeat performance!
- Frank Mount, MGTB Special, #704
Dicing with George Pardee and Jeff Renshaw, I couldn't catch either one of them, but I was able to stay close enough that when George got "Black flagged", we all came in, each feeling that it was us. As I passed George in pit lane, I heard him telling the officials, "I was using one hand to hold the door closed, the other hand on the shifter to keep it from popping out of gear, and was holding my position - What's your problem!!
- Rob Orander, MGTD #247

I was coming around the last turn onto the straight and my fire extinguisher discharge in my face. It had come loose from its mount earlier. I grabbed it as it rolled towards me and jammed it under my seat. Unbeknownst to me, the pin had come out. I guess the handle hit something as I came around the turn. At first I thought I was on fire. I rolled into the hot pits and released my belts, but quickly realized what the problem was. My Best Man also thought I was on fire. I saw him run down the hot pits, grab a fire extinguisher off the wall, then promptly trip and fall on his face! A lot of help he was! After a wipe down of my gauges and face shield, I was back on the track in a white cloud of powder.
- David Littlefield, Midget #57

Race highlight for me was winning the Group T qualifying race on Saturday and having an absolute GREAT race with Phil Roettjer's Lotus 6 in the process with Bill Hollingsworth and Steve Konsin close behind. Of course this highlight was quickly balanced on Sunday by my spinning out at the bus-stop chicane while dicing for the CC#1 lead with Steve, then having a little piece of crud find its way into the fuel filter thus dashing any hopes of regaining much ground and turning TD #76 into a sporadic rolling chicane in itself through the last couple laps. Count my blessing though...lucky that event didn't lean out the carbs so much as to fry something expensive.
- Manley Ford, TD #76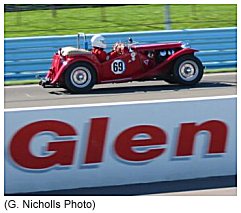 And on another level - as we are slowly seeing with time - the joys of MG vintage racing are drifting down to our sons and daughters:
Clearly the most exciting part of the weekend for me was racing with Colin, my son who was driving Jerry Storch's old MGTC. A bit damp on Thurs - the weekend was really spectacular - and this after super weather the previous weekend at Lime Rock. I still find the Glen a bit intimidating but that's partly because I'm so use to driving Lime Rock. It was a once in a lifetime event and I'm sure glad I was there!
- George Smith, TC # 69 (C. Nicholls Photo)
Besides the racers at the track, there were spectators, vendors selling everything you could think of, car clubs present, car shows, people camping out for the weekend, food of all types, and just a carnival atmosphere everywhere! Many spectators came to check out the MG racers.
I was amazed at how many people came around to look (in detail) at my MG and at the questions they asked. ... One gentleman talked to me at length who was from Australia. ....
- Gary Fairbrother, MGB #18
John Ruth had an interesting story with his MGB #62:
The fact that the team JKR SPORT finished the MGB 2 days before the event was a highlight, as this MGB was raced from 1966 - 1979, having it's last race on Sept 8 1979. The MGVR race marked its return to racing 25 years after its last race almost to the day! It was also my first time racing a MGB, having raced for about 10 years in historic competition with Mustangs. I must say that I am hooked with the MGB. I am proud to say the MGB proved her merit, and provided a fine showing on Saturday, especially considering that the engine was never rebuilt and is the very same race engine used last in 1979. It just proves that old racecars keep doing what they do best - leaking oil and giving lots of fun to the team. I was very impressed with MGVR - and JKR SPORT RACING is committed in supporting the MGVR group's endeavors. JKR SPORT RACING thanks MGVR and SVRA in organizing a fun, unique historic event.
- John Ruth, MGB # 62
The paddock was buzzing with activity. And - as usual - some MGs had problems, and help was everywhere!
One thing I always enjoy seeing and I'm sure will be mentioned by many is how MG Vintage Racers are so ready to help each other. A rocker arm expires and within minutes, it seems, spare whole rocker assemblies are being offered. A coil goes bad and numerous good ones are coming out of parts bins. A mysterious ignition problem is cured by the loan of a complete distributor. Another racer has "spares available for loan" and makes a point of putting them out on display so others can readily access them. I'll bet if each of us lists all the acts of selflessness and kindness we witnessed (often involving parts and labor from and to people who had not previously even met) it would make a list longer than this newsletter could contain.
- Manley Ford, TD #76

Jim Holody was having clutch problems with his 1959 MGA Twin Cam. His crew pulled the trans - replaced the disc with a used disc from the "B" pits next to us - replaced trans only to find parts left over! Once again they removed the trans (No easy job in an MGA Twin Cam). Second time was a charm. Jim was ready to roll. (Time elapsed for 2 removals - 2 hours - unbelievable!) Car ran well the rest of the weekend.
- Jim Weissenborn, MGA #392

I am still in awe of the unbelievable help and assistance I received to repair my MG (blown head gasket, with damage). I experienced what MGVR is really all about - great people!
- Richard Navin, MGB #246
A special MG race car and driver arrived at the MGVR hospitality tent Saturday. SCCA racer Kent Prather brought his 5 time national G Production championship winning MGA for display. It wouldn't quite qualify for "vintage", but it was most impressive! And while there, he floated around the MG paddock, and lent a hand and advice to a number of MG racers on their MGs.
I had a GREAT weekend! Sure would have enjoyed showing off my MGA on the track. However, meeting you all in person and having the opportunity to help MG Racers (with their cars) was my highlight of the weekend.
- Kent Prather
To document the magnitude of the MG racers at this event, a "Panoramic Photo" of the MG racers was taken after racing ended Saturday. There were concerns that lining up the MGs could turn into a Chinese Fire Drill, but the "MGVR Police", headed by Bill Hollingsworth, kept it all well organized. They staged all the MGs in rows in the paddock as racing was about to end. (J. Best Photo)

As the last race car left the track, all the MGs rolled out onto the track and lined up for their photo shoot. It was a truly Awesome Spectacle to see them all together! Memories captured for years to come.
Saturday evening SVRA hosted a track party for all racers and crew - and there were LOTS of them. But for two MG racers, Saturday evening was more than just party time -and the Collier Cup was more than just a race event:
Our highlight of the weekend was getting married at Watkins Glen. Pam and I were married Saturday night on the terrace of Chateau Lafayette Renau Winery - as the sun was setting over Lake Seneca. About 20 family and friends attended, including members of our racing family in their driving suits. The tables were set with a racing theme with checkered flags and miniature replicas of vintage oil cans holding pecan brittle made by my lovely bride. Each table held a bouquet of flowers in a vase that was labeled with a racetrack at which we had raced. In keeping with the vintage racing theme, Pam was dressed in a vintage 1951 wedding dress, while I was resplendent in a white dinner jacket with a black and white checkered bow tie and cummerbund. We were surprised and grateful to receive a set of wine glasses inscribed with the MG logo from MGVR as a wedding present! We were also very grateful to MG racer Manley Ford, who not only lent us his cabin for the wedding party to change, but left us a bottle of champagne to get us into the mood!
- David Littlefield, Midget # 57 & Pamela Fontenot, Midget #29
Sunday was the FEATURED RACE DAY we had all come for - with TWO Collier Cup MG races! Since its beginning in 1985 every years there has been "one" Collier Cup race. The largest field ever was in 1998 when they had 72 MGs. So what do you do when 143 MGs show up to race? Obviously - split them up and have TWO Collier Cup races! Collier Cup 1 included all Pre-War MGs, T series MGs, and the slower MGAs. Collier Cup 2 included the faster MGAs, plus B's, and C's and Midgets. Actually most racers felt comfortable with this format. No MGB-V8 would be blowing the doors off some stock TC.
The morning sky sparkled bright blue, as crowds of people showed up, while MGs received final tweaks and checks. Support people on all levels were giving it their best this weekend:
There was great camaraderie in the MGVR paddock and for that matter with everyone we came into contact with, no matter what they were driving. SVRA and the Glen people did a superb job of keeping things on schedule. None of the people in charge were on a power trip---- it was just great. To all those that helped or raced, a big THANK YOU!
- Joe & Cheryl Lightfoot, MGB #169

I took my son to the pre-war paddock to show him the differences between the TCs, TDs, and TFs. The owner of one of the cars we were looking at came out of his trailer and pointed out some differences even I was unaware of. When he saw the MGVR logo on my hat, he treated us like we were one of his best friends and even asked what I raced and how my son liked the weekend. Friends are great to have, but when strangers treat you like friends, it is even better.
- Bob Spruck, MG Midget #67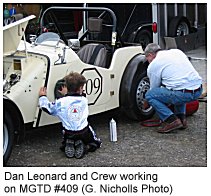 This weekend was more than just drivers racing MGs. It was also very much about family and crews - all part of the greater MG FAMILY:
I am proud of the Rowdie Racing Crew. They worked for many hours to keep my MGA ready to go at all times. They are the real backbone of my vintage effort. If we ever start a crew or crew chief recognition program, these folks would be nominated in a minute.
- Dave Smith, Rowdie Racing # 49 MGA

I have owned an MGTC since 1955 - but only got involved with vintage racing two years ago. Before Watkins Glen my wife had never been to a race weekend and couldn't understand what I was doing. After the Glen, now she knows! She has belonged to a lot of organizations, but says she has never met a more friendly group of people - she was impressed at how we are competitive on the track, but after we get back to the paddock, we all are ready to help each other any way we can! It is much more of a special event than a competition. The great people of vintage MG Racers have converted her - she'll be back! Thanks for making life easier for me! (PS - I still don't tell her how much it costs!) (C. Nicholls Photo)
- Ed Callo, MGTC #482
It was just incredible to have 11 Pre-War MGs racing in the first Collier Cup race of the day! The oldest being Don Martine's 1929 MG-18-80 Mk1! And a whole gaggle of T series MGs! Everyone had someone to race with! And get this - Mark Palmer - head of the MG Vintage Racers - was racing his MGA. On Sunday morning, Dean Butler offered Mark a drive in his 1934 MG K-3 for the Collier Cup 1 race - and Mark couldn't accept fast enough, before Dean might change his mind. Imagine being asked if you'd like to race a historic 1934 MG K-3 factory racer! Just think of the famous race drivers who's butts have occupied that seat - and at famous venues! Pre-selector gearbox, mechanical brakes, racing history - (and worth a small fortune). Mark stepped up to the

challenge, and did very well in it. But it did take him a few days after the event to get off cloud 9.
The crowds anxiously waited in the stands, and on the hill sides as these MGs did their pace lap Denver Cornett, who raced in the very first Watkins Glen Grand Prix in 1948 in his MGTC, was the honorary pace car for the race, in his same MG. It was an emotional lap:
One of my favorite moments was the pace lap of CC#1. What one among us - as we cruised up the back straight - did not take just a moment from our usual mental pre-race check-list, to look for and aft to as much of the field as we could take in? That glorious sun gleaming off all those classically chiseled grill shells, bonnets and headlamps - shapes that captured many of our hearts and imaginations when we were but children and ultimately shaped our lives and guided us to be there together - that band of brethren together with all those great little cars making a symphony of sounds and sights and smells on such a truly historic and memorable day. What a scene! What a privilege to be part of it!
- Manley Ford, MGTD # 76
They came around -got the green flag -and raced into history!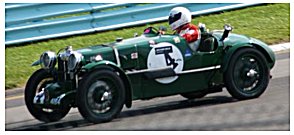 George Padre (MGTF #661) took note of Mark's drive in the K-3:
My racing highlight was Mark Palmer's drive in Dean Butler's K-3 MG in the Collier Cup 1 race. I have long admired Mark's ability behind the wheel of his MGA, but to move into a fast Pre-War car with Wilson pre-selector, straight axle, and mechanical brakes - having ZERO previous seat time - then slicing through the field as he did! Mastery far beyond the amateur racer. (G.Sundusky Photo)
Winning for drivers came in many different forms. The experiences and rewards for everyone varied considerably:
My MG actually ran for most of the weekend. Trust me - this was an accomplishment.
- John Meyers, MGA #151

I started 14th in CC1 and finished 19th. My clutch started slipping BADLY on the last lap - and for 2 laps before that I could see Lou Marchant(#186) in my mirrors. Try as I might, I could not hold her off, and on the short straight after the boot, she passed me with the BIGGEST GRIN on her face. Afterwards, she gave me a BIG HUG!
- Tom Baumgardner, MGA #254
(To: Mark Palmer),
Nice of you not to count my loop-de-doo at the bus-stop on lap 2 of CC #1 as far as "incidents". I concur with your observations. Throughout the weekend I noticed that slower MG cars did a great job of maintaining their line, watching their mirrors, and pointing faster traffic by when it was safe and appropriate to do so. And faster cars when approaching slower cars that you weren't 100% sure of seemed to pause in unison until it was clear when the timing and place was right to proceed by. Let me add my congratulations everyone who contributed to what - by any measure - has to be the best event ever!
- Manley Ford, MGTD # 76

My highlight was seeing the Checkered Flag at the end of each race. We all hope and pray that happens - but sometimes the race car just doesn't cooperate. Ha!
I DON'T KNOW HOW YOU ALL DID IT!!!!! THANK YOU! THANK YOU!
- Jack Cassingham, MG Midget #60

Just FINISHING CC1 was my racing highlight! What a way to go! After "Retiring" from vintage racing in 1998, at the 50th Glen event, I decided that the attraction for the 50th Collier was too great to ignore. Thanks to all who tolerated my somewhat less than practice lines through corners.
- Jack Archibald, MGTC #505
OK - CC1 over, take a break for lunch, and then Collier Cup 2 - also billed as the "New York Governor's Cup Race". But as a special feature - especially for the spectators lining the track - , ALL of the racing MGs would go out on the first "Pace Lap" of the CC2 race, as everyone witnessed the full breath and depth of this gathering! It was TRULY AWSOME to watch all of them take that first lap - and the CC1 MGs were allowed to take a passenger along - a thrill for many!
My highlight was giving a ride to a gal who has always wanted to ride in a race car around the track. She was grinning from ear to ear and was so enthusiastic! She was tearful when she was telling her husband and said she couldn't wait to tell her grandchildren.
- Rob Orander, MGTD #247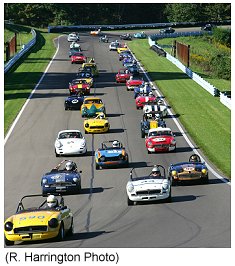 The CC1 MGs pitted at the end of the first pace lap and the CC2 MGs went around again, and then got the green flag. Some of these CC2 MGs were truly FAST!. We're talking 140-150mph on the straights, with the MGB-V8's! But others were excited just to make it to the checkered flag!
I was gridded one-half to two-thirds back for Collier 2 race. We back markers have developed a keen sixth sense of when the green flag is dropped when we can't see the flag. So I put my foot into it, turning for turn 11, and the straight. Then I hit my brakes!! Ahead of me for the full straight was nose to tail - wall to wall -, MG racers - a blanket of MGs from my turn 11 to where my vision dropped off at turn 1. That's a start that I will never see again!
- Bob Schoeplein, MGA #76

The whole weekend was one big grin maker, but if I had to choose one moment, it would be the start of the Collier Cup 2 race. I usually get pounded on race starts, but this time it all went my way. I started in 20th position, when the green flag dropped almost everyone moved to the right and left me 6 feet of pavement on the left side of the track, for my five and a half foot wide car to go down. By the time I got to corner one I must have been in 9th place. Of course the really fast guys put me in my place in short order but I think I must have still been in 12th place on lap 4 when my engine suddenly went sour and had to retire with one lap to go.
- Joe Lightfoot, MGB #169

Having never driven WG at speed, I was apprehensive about my inexperience, the higher speed of WG, the higher speed of the SVRA cars and the possibility that I might screw up someone else's day/weekend ..... And then - the Collier Cup! What an amazing collection of MGs, plus the opportunity to actually pass a few cars on track! I'm beginning to feel a bit like the Woody Allen character Zelig, what with an image of my humble MGA appearing now in two glossy vintage magazines, I'm sure I'll be seen again as I was a mere 15-20 feet from being lapped as the winner of CC2 crossed the line.
- Jim Warren, MGA #298

Personally, it was an incredible time, although my MGB was reluctant to join the fray - wouldn't start on Thursday after Tech, running on 3 cylinders on Friday - it ran well enough on Saturday to let me have one of the two best car-to-car races I've had since I began vintage racing in 1999. Then on Sunday for the Collier Cup, it was up to it's Thursday no-start tricks. So, we jury-rigged a hot wire controlled from the cockpit that let me start the car when needed. But, the tach was inoperative. So, I shifted based on sound, seat-of-pants & track location. The result was my best time of the weekend by 0.426 second & a finish equal to last year's in overall percentile. Not bad for a daily driver that's one year & 7,000 miles older & got me through another New England snow-filled winter.
- Norm Sippel, MGB # 477

Due to the blown head gasket in my MG, I had no qualifying times and started at the back end of the grid. Moving up to finish mid-field was a blast! The racing was clean and safe, yet everyone was trying their best - perfect MGVR Attitude!
- Richard Navin, MGB #246

My racing highlight was taking John's Wright's Sebring MGA onto the track after a 40 year hiatus from competition. Running as a team with Bob Watkin in the 1962 Sebring MGA and threading our way through traffic at speed was absolutely MAGIC!. I still get goose bumps thinking about it.
- Bob Vitrikas, MGA #40

In the CC2 race, I just beat the MGB-GT V8 to the finish line to keep from being lapped, so I could have one final lap to catch Stan Heath's MGA, Ralph Zbarsky's MGA Twin Cam, and Alan Costich's MGB/GT!
- V. Carl George, MGA #107
Checker flag drops, as MGs take a final cool down lap, with grins - ear to ear! MG racing history had been made today, with incredible joy - and great vintage racing! MG racing behavior was exemplary:
TO: All MG Racers,
I want to offer a huge THANK-YOU to the MG drivers at the Glen this year! You did a fabulous job! As far as I know, we had no incidents in either of the Collier Cup races. With the huge fields on the track, I think everyone did a great job! There were almost no complaints about any MG drivers, and just one single-car solo incident in practice that I know of. And personally, I saw a lot of good, courteous driving on the track by fellow MG racers.
I know I lectured you guys a fair amount this year, and Carl Jensen of SVRA leaned pretty hard on you in the driver's meeting, so I just wanted to say CONGRATULATIONS and THANK YOU for a job well done! SVRA was thrilled with our excellent conduct, and they would be delighted to have us back at any of their events in the future.
- Mark Palmer, Editor, MGVR Newsletter
MGs were parked, as all gathered in Victory Lane for the MG awards ceremonies. As an introduction to the awards, Mark Palmer, head of MGVR, reflected on just why they were here today:
"I'd like to start with some real brief comments about the Collier Brothers - because that's why we're here today. And it's all because two very young men had tremendous enthusiasm, the best sportsmanship, and a great sense of humor back in the 1930's, and kept road racing alive in this country. They planted the seed that blossomed here at Watkins Glen in 1948 with the start of racing here. By 1954 Sam and Miles were gone. But in their short lives, they accomplished so much for the MG marque and sports car racing in America - that's really what it's about today. We're here for the 50th anniversary of the first Collier Trophy - the first Collier Brothers Memorial MG race."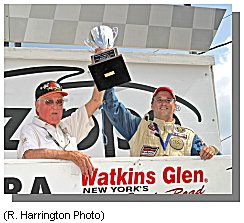 First overall in an MGB-V8 was Les Gonda, receiving the "Cornett Trophy" from Denver Cornett himself! Les had a few words as Denver presented him the trophy:
"I'd like to say to my wife Casey - thanks - she never asked me how much this sport cost! There are three things I'd like to say. I think people come racing - probably - at least for three reasons - there are three reasons I do. First is the people. I've met some of the nicest - greatest people I've ever met in my life - racing. Second, its about the cars - along with the history of the cars. Third, it's the actual racing - which I also enjoy. Thank you very much.
- Les Gonda, MGB-GT V8, # 02
Steve Konsin in a 1950 Lester MG won the "T Trophy".
"It was a wonderful weekend. One which I planned for all year and almost did not make at the last minute, so I feel particularly grateful The cars were unbelievable and the racing just perfect.
Having my son Stephen there for my two podium finishes was very special. The Lester was very strong all weekend. I thought I lost the motor in the qualifying race Saturday when the fuel line separated just as the green flag dropped... but no damage done .. but I understand Paul Fitzgerald just about put an impression of the front of his TD in the back of my Lester...Thanks Paul for avoiding that one!"
- Steve Konsin, Lester MG # 284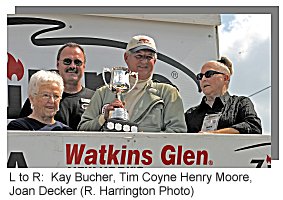 Henry Moore racing an MGA received the new NAMGAR sponsored "Bob Bucher - Sherm Decker Memorial Cup" as the first MGA in the Collier Cup race. It was presented by Tim Coyne, Chairman of NAMGAR, with the help of Joan Decker and Kay Bucher - their surviving wives.
"As Chairman of NAMGAR I want to thank the MG Vintage Racers for a great weekend of racing - as far as we're concerned, you're all winners! NAMGAR is extremely honored to play a small part in keeping the MG spirit alive and well. These ladies were here with their husbands during the most wonderful romantic era of early road racing, and I'm honored to have them join us on the podium. Bob Bucher and Sherm Decker are synonymous with MGs, MGAs, Watkins Glen, and the Collier Cup. NAMGAR is pleased to recognize their contributions to our sport by awarding the "Bob Bucher - Sherm Decker Memorial Cup" to the highest placing MGA in the Collier Brothers Memorial Cup Race. The winner of this annual award for 2004 is Henry Moore.
- Tim Coyne, Chairman of NAMGAR
Joan Decker later reflected:
I felt honored and privileged to have been a part of such an event. I know that Bob and Sherm would be so proud and pleased and shocked that so much was made of that Collier Cup race with them. I remember it as if it were yesterday. I am very pleased to think you wanted it remembered. The trophy is very elegant, and the winner should be very proud to be the MGA winner of it in the Collier MG race.....
And From Kay Bucher:
I certainly was very proud to take part in all the beautiful ceremonies, it was just wonderful. My two grandsons were very impressed, as was my family. They were excited to see their Grandpa and father honored. ... Thanks again for a beautiful weekend, we all enjoyed it and I saw people I hadn't seen since Bob passed away.
It also was a highlight for Tim Coyne, as he later told Joan:
I have attended the Vintage Grand Prix weekend at Watkins Glen for about the last 15 years and this year was the absolute best!. Meeting you and Kay and your families and seeing how pleased you were that Bob and Sherm were being recognized, then having both of you ladies in the Winners Circle to make the presentation after the Collier Cup Race, was my highlight of the weekend.

    I couldn't help but overhear a gentleman talking to you in the Winners Circle about meeting Sherm at Morris Garage when he was just a teenager and how the time spent with Sherm is still engraved in his mind like it was yesterday. This says a lot about your late husband and I am so pleased that NAMGAR could play a small role in keeping those days alive. I only wish I too could have met Sherm and Bob...they must have been quite the guys.
Martin Walford (from England) won the New England's MG T Register's trophy for the first Pre-War MG in the race, driving Dean Butler's 1934 MG-KN special. Coming from England for this event, he was most impressed:
From my prospective there are not enough superlatives in the dictionary to describe this event. Through the generosity of Dean Butler I have had the opportunity to meet some great people and race some wonderful cars. I am lucky, Dean allowed me to drive his MGs which were more than competitive in their class and which therefore flattered the driver. However, two visits to Victory Lane were beyond my wildest dreams and rate along side my podium place at Monaco in 2002. I also need to thank the New England MG'T' Register for the 1st Pre-war MG trophy. Finally, thanks to all the event Marshalls and scrutineers, without whom none of us would be racing.
- Martin Walford, Worcestershire, England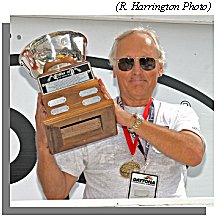 So far, these were all "racing awards". But the featured winners were awarded the "Collier Cup" - and there were two this year. They were chosen by a vote of the MG racers themselves. They voted for a fellow racer who best embodies the "Spirit of MG vintage racing". The winner for CC1 was Bill Hollingsworth, with his TC. But Bill almost wasn't there to receive the Collier Cup!
After the start of CC #2 race, I loaded up and figured I could be ready to leave by the trophy presentations. I got there toward the end.... I had forgot to vote, but I ... almost did not come to the awards. I never figured it would be me ...

THANK YOU ALL VERY MUCH! I am very touched and very overwhelmed for the group's generosity. It never would have occurred to me that I'd be considered. To a certain extent I think that I can remain invisible...and just race my TC and work behind the scenes.....

The event was a great success, incident free for our group. And for those who missed it, Manley put on a great show on the second lap of trying to pass Konsin's Lester MG going into the bus stop, with Konsin out braking him, and his spinning. Very pleased to get second overall in CC1.
- Bill Hollingsworth, TC #818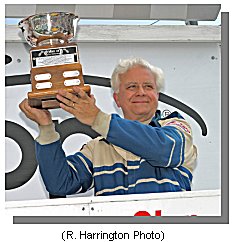 The winner for CC2 was MGA racer Dick Powers. What a way to be honored by your fellow racers!
There were so many thoughts and emotions running through me as I was presented with the Collier Cup. I thought back to the first Collier Cup race I ran - the 40th Anniversary in 1994 and to all the help Joe Tierno gave me to get into vintage racing and that race. I thought about all the great racing I've had with this wonderful MGVR gang and the many friends I've made. Honestly I just couldn't believe I was selected as a winner of the Collier Cup.

I also thought of my parents - how they encouraged my interest in sports cars and racing. My dad took me to my first race at the Glen in 1951. We watched the race from just before the railroad tracks and I still remember T series MG's flying over those tracks! That's where it all began - and now having my name on the Collier Cup is truly a blessing in my MG life and a dream come true! (R. Harrington Photo)
- Dick Powers, MGA #222
As the Sun Set on the Dream of Watkins Glen:
The dream had come true! But dreams do end. Racers said farewells to each other, packed up and headed home:
At 6:30pm on Sunday when I finally left the track, there was a police officer directing traffic at the track gate because the volume was so heavy. Normally, there are no fans in the grandstands for the last race of the day (5:30pm). This year, their numbers exceeded peak times of most previous years!
- Joe Tierno, MGA #029

I left when only one or two trailers were in the paddock. All looked as if nothing had happened for the last 5 days. A cool breeze in the air, sun setting in the west and a calm feeling everywhere. As my friends drove off, towing my car back to Rochester, I turned the key on the Blazer and found it too had a calm feeling everywhere. I sprinted from the MGVR tent to the far end of the paddock to find Don Funke, a past Collier Cup winner and old friend, just getting ready to go. If it wasn't for Don, I'd still be there.

PS: I had dinner with Kent Prather and his wife at Seneca Lodge before leaving Watkins Glen. A really nice person and found out he was doing a lot of free "MG Tuning" for some of our vintage racers during this beyond belief MGVR Weekend.
- Dick Powers, MGA 222
Echoes of the Spirit of the Collier Cup 2004:
It was hard to believe it was over! Such an incredible weekend of MGs, racing, parties, history, fun, and camaraderie. The memories will live for years to come. For those who were there - it's still hard to believe it really happened. For those who weren't - you can't believe what you missed! Some of the following comments on the event reflect the spirit of it:
It was an absolutely fantastic weekend and NAMGAR has received numerous emails from our members thanking us for hosting an unforgettable Regional GT. It really makes you feel good when something like this - that has taken so much energy and planning - was so appreciated. By all accounts it was a very successful weekend.
- Tim Coyne, Chairman, NAMGAR
Hello there from wet old England.
I was sad not to be at the Collier Cup meeting, but have followed the various reports with interest, which made me even less pleased not to have been there. Congratulations to the team who put it on, and to those who took part, it was obviously a Great event, and a credit to all.
Best wishes,
- Mike Allison, Honorary President, MGCC Triple-M Register

I just had to send a message of congratulation and support for the FANTASTIC entry at Watkins Glen. A really super effort of which everyone should feel very proud. It's probably correct to say that an entry of this caliber and extent has never-ever occurred outside the UK before and I have to say that we would proud to have the entry at any of our meetings. So a really "well done" to all the people involved in the organization - we know it does not just happen!!!
Good Luck and very Best Wishes. I wish to heck I could have been with you all.
- Ron Gammons, Vice President MG Car Club (England)

Greg's beautifully written article about the Collier Cup could not better capture in writing the spirit of a fantastic weekend at Watkins Glen. But no article - no matter how well written - could ever capture the emotions of being there in person. We are still talking about it here in the UK. We only hope we can come back for another such weekend in the future.
- E. Dean Butler, MGs: K-3, KN Special, and NA
And from this side of the pond:
In 1988, the Collier Cup was about to be booted off the SVRA schedule because less than 10 cars took the green flag. Had someone told me that in 2004 there would be 143 paid entries, I would have taken their beer away! Congratulations to all who spent massive amounts of time to make this a success. I hope that many of the newer participants will be inspired to volunteer in the future.
- Joe Tierno, MGA #029

I was truly blessed this weekend - ...I got to ride shotgun in the Collier Museum's MG-K3 to the down festival ....I was able to drive their famous "Leonidis" MG from the paddock to the photo shoot .. I got to race Dean Butler's MG-K3 in the Collier Cup - undoubtedly the racing highlight of my entire Life!
- Mark Palmer, MGA #185
Following the Collier Cup, has been like watching my child grow up and mature. The SVRA "Collier Cup for Vintage MGs" was born in 1985, sustained by Miles C. Collier - and had the support of MGVR. Just eight MG racers participated in that first race, and I was fortunate to be one of them. Even though fields for it in the next several years ranged between 8 to 16 MGs, SVRA graciously kept it on their schedule, but there were concerns that they might drop it. With the enthuiasm of MGA racer Joe Tierno, and the support of MGVR, the 40th anniversary celebration of the Collier Trophy, with the Collier Cup race, was a significant success in 1994, with 60 MGs reporting to the grid. The Collier Cup was growing up! That really got the momentum going! Then another record breaking filed of 72 MGs in 1998 for the Glen's 50th anniversary of racing! And now to have 143 MGs competing this year has very strongly established, and honored the Collier Cup for MGs, as a unique success story in vintage racing. It has brought much joy, and many friendships to me over the years, and may it continue for many years to come, especially as my daughter Rachel is crewing for me now, and soon hopes to find herself racing ol'53. I sincerely thank all of you who have supported it in so many way over the years!
- Greg Prehodka, MGTD #53

My most poignant moment was seeing the crowds surrounding the cars on Franklin Street. I actually started to get choked up. I participate in Vintage racing for my own enjoyment, but here were thousands of people who cared enough about our sport to come - many from long distances - and give up their weekend to watch us play. The experience was humbling. It's not about us - it's about the cars.
- Stan Edwards, MGA #641

This event was not just a race. It really was far more - and precious few race meetings I attend can say this. The MGVR group really is special!
Another thought that crosses my mind is that far too many historic "racers" think they need high dollar, fancy name cars to have fun. The MG Vintage Racers clearly have MORE fun than most of the guys with the big bucks cars. And, we do this for fun - don't we? I have participated in historic race meetings with a lot of high buck cars - Masers, Bugs, etc. - but I have never enjoyed such a good time as with the MG Vintage Racers. And I am sure it would have been the same had I been driving an old T-series, A or B MG
- Dean Butler, MGs: K-3, KN Special, and NA

My sister who lives on Long Island was able to come and see me race for the 1st time. She had a great time at the track, in town, and at the dinner. ... She enjoyed it so much she is planning on going to a race school in the spring!

In MGVR everyone shares information and experience - and takes joy at other people's successes. Everyone enjoys the people, the cars, the atmosphere and few have an attitude. No one cares what you do in your regular life - only who you are as a person at the track. A rare experience in my life!
- Scott Fohrman, MGB #53
Post Script:
Well, here it is Friday evening, and I'm on the second load of laundry. Not bad for a 5,400 mile round trip (from British Columbia)! An outstanding event - got to meet a lot of you MGVR and MGA-TC guys that I know through our e-mail groups. Amazingly enough, my twincam MGA ran strong all weekend, (even put the boots to some MGBs), requiring only the addition of about 1 pint of oil and 15 gallons of race gas!
- Ralph Zbarsky, MGA-TC, 153
"Best time I ever had! - Please don't tell my wife!"
- Anonymous
"The Past Racing Into The Future"
MG Vintage Racers
Note: (All Photos without credits are © "MGVR Photos")