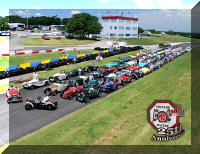 In 1981, ?Vintage Racing? was just beginning to grow in North America, as 38 MG vintage racers banded together with the ?MG Vintage Racers? Newsletter? - just to stay in touch with each other and exchange information. With time, both vintage racing and the newsletter grew. It became know as ?MGVR?, and developed into much more than just a newsletter, as it became the common bond of MG racers. Today they have over 250 active MG racers in their ranks. So, to celebrate their 25th anniversary in 2006, they ?threw themselves a race party? in a spectacular way, with an ?All MG race weekend?, at Hallett, Oklahoma the weekend of June 2-4. MG racers came from all over North America for it - a number of them towing in excess of 1,500 miles! This would be the first ever ?All MG vintage race weekend? held in North America!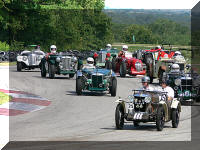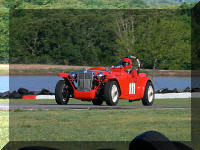 Three days of sun blessed the event. Being for MGs only, the race format had something for everyone: practice, scratch races, handicap races, endurance races, tag team races, - not to mention plenty of bench racing in the paddock, and elbow raising in the evening. No-one complained about ?not enough track time?!
74 MGs showed up to compete, ranging from pre-war MGs up to MGBs. There were classes for Pre-War MGs, Ts, As, Bs, and Midgets. What a wonderful sight to walk around the paddock and see nothing but MGs everywhere! Friday was mostly practice except for the ?All Comers One Hour Enduro?. Any MG could enter this race with two drivers, and cars had a mandatory pit stop for driver change. Racers began honing in on their racing lines of this challenging 1.8 mile, 10 turn track, changing in elevation 80 feet. MGTD racer Mike Lewis saw the course like this: ?What a track! Very challenging, sharp curves, early and late apexes, blind apexes, crowned curves, off camber curves, and hills everywhere! I found out a T-type needed to be in 2nd and 3rd for over ? of each lap!?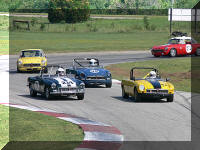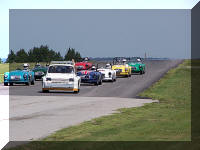 Friday evening racers gathered for a western style barbecue at the track as racers and crew chowed down on lots of BBQ chicken and beef, complimented with cold brew, and the camaraderie of each other.
On Saturday the racing began to heat up, with scratch and handicap races. Sharing the pace car duties were a 1930 MG Works ?Double 12? M Type MG, and a 1984 works MG 6R4 twin turbo rally car (600 hp!). Great dicing developed on the tarmac, and later racing tales were swapped back in the paddock after the dust had settled. Racing this weekend wasn?t about winning! MGA racer Chris Meyers reflected: ?It seems that the common bond between us goes beyond racing MGs. The exemplary on-track courtesy exhibited should set the standard for all vintage racers. I had no reservations with racing nose to tail with anyone in the MGA group. It really is about the people and the MGs. We truly are a ?Band of Brothers? ? Saturday evening the MG Vintage Racers celebrated their Silver Anniversary with a dinner at the track. Chris: ?How often do we have the opportunity to bench race - West Coast to East Coast - while enjoying a beer smack in the middle of it all!? This was a silver anniversary celebration to remember!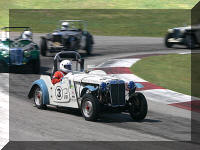 Scratch and feature races were on the menu for Sunday, but during the lunch break everyone gathered for a special presentation. Every year the MG Vintage Racers present their ?Spirit Award? ? also known as ?The Big Copper Bucket? - to one MG racer, as voted by their peers, as having the best ?Vintage Spirit?. They voted Reed Yates the MG honor! He was the event chairman, plus he raced his MGTF and a 1934 MG N type at the event, as well as loaning his MGs to a couple of hard luck racers during the weekend!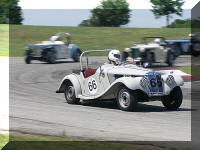 The final race was the ?MG Enthusiasts Magazine Tag Team Race?. For it, 8 teams of three MGs each were formed by combining a mix of MGs from different classes. Each team was given a lanyard. All the first cars from each team had a standing start together, and then had to complete 5 laps, pit and pass the lanyard onto the next car on their, and out they went. Repeat, etc, until each team had completed 30 laps. This activity alone was exciting to watch! Team number three, consisting of a MGTF, MG Midget, and MGB, brought home the first place honors! Later MGA & MG J2 racer Lou Marchant recalled: ?During the tag team race I broke the shift stick on my equally tired MGA! My arm is bruised, my nose is peeling, my lips are blistered and I am still grinning from ear to ear ? what a fantastic weekend.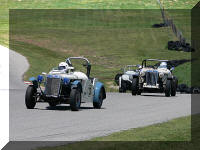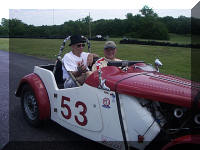 After racing ended, awards were presented, including the MG Vintage Racers ?Bill Parish Award?, given in memory of the spirit of this fun loving MGTC racer of many years, and MG enthusiast, who passed away from cancer. It is awarded annually to a MG racers chosen as ?Having the most fun, while not concerned with winning?. This year it went to MG Midget racer Grover Maurer. At 74 years young, he believes it is important to have fun racing and encourages new and younger drivers to enter vintage racing. He usually runs mid-pack and is know for frequently lending a helping hand to fellow racers.
It was an incident free weekend. MGB racer Jim Austhof summed up his emotions after the event: ?What did I like about Hallett? The track, the scenery, the facilities, the camping, the weather, the racing, the people, the MG Brotherhood! I could go on but it is always a great time when the MG vintage Racers get together. Thanks for the memories!?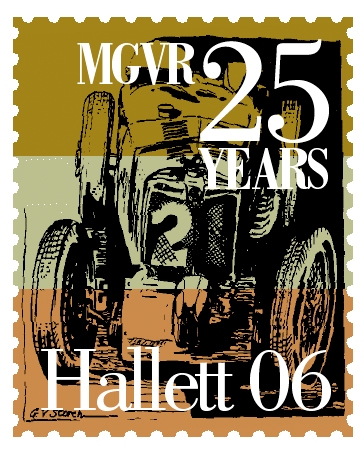 Click on any photo for a larger image.
---