Part 1 of Racing at Elkhart Lake, WI focused on the races that were held on the public roads in and around Elkhart Lake during 1950-1952. But racing was not going to be allowed on public roads any longer. The main protestor was not going to give up, so the "right of access" law, which essentially ended racing on the streets, was going to be enforced and a different venue was needed. Part 2 of Racing at Elkhart Lake, WI will focus on Road America, a world-class road racing facility set in the beautiful kettle moraine area of southeastern Wisconsin, located approximately one hour north of Milwaukee.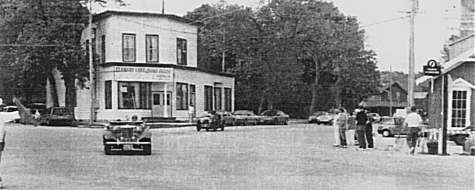 No, it's not 1952 ... this is the 2000 Elkhart Lake Street Circuit Tour!
Local engineer Clif Tufte had a vision of a road race course and selected a 523-acre site near Elkhart Lake in 1953. Land was purchased, a road course was staked out by walking the area numerous times to visualize a course, and Road America was incorporated on November 15, 1954. Prior to the start of construction in April of 1955, the Chicago Region of SCCA scheduled a national race at Road America for September of 1955. A first-class road racing track and facility was constructed during that spring and summer. Road America, a four-mile track, opened on September 10, 1955.
September 10-11, 1955 was the inaugural weekend for Road America. SCCA ran the races that weekend, and they were sanctioned as a National Championship event. There were two categories, Production and Modified, with several classes in each category. Three races were held on Saturday and four were held on Sunday. The first event at Road America on September 10, 1955 was an eight lap, 32-mile race for G Production cars (MG's). A field of TC's , TD's, and TF's ran in that first race, with Roy Heath winning the event in his TC. The average speed was 59.6 mph and the fastest laps were about four minutes. The second race was a 56-mile event for C and D Production cars (winners: Mercedes- Benz 300SL and Triumph TR2, respectively). The third race was a 100-mile event for E and F Modified cars (winners: Maserati A6GCS and Osca, respectively).
On Sunday of the opening weekend, four races took place. The first race was a 52-mile event for F Production with a Porsche Speedster winning. The second race was a 56-mile event for C Production cars with a Jaguar XK winning. The third race was a 52-mile event for G and H Modified cars. The winner in G was an Osca 1100 (a Lester-MG was second), and the winner in H was a Fibresport. The fourth and final race on Sunday was a 37-lap/148-mile event for B, C, and D Modified cars. Phil Hill, who had competed in the 1951 and 1952 races on the 6.5-mile road course around Elkhart Lake, won the first feature race at Road America on Sunday, September 11, 1955 driving a Ferrari Monza. The B Modified winner was Walter Gray in an Allard, and the C Modified winner was Sherwood Johnston in a Jaguar D-Type. Hill's winning speed was 80.2 mph. The first race weekend was successfully completed, with many more to look forward to.
Since 1955, Road America has hosted numerous events consisting of various types of races. NASCAR, USACRRC, Can-Am, Tran-Am, IMSA, AMA, CART and SCCA races have been held. In 1982, Road America held vintage car races that were open to the public. Since then vintage racing has grown in popularity with entrants coming from throughout the U. S. and even beyond. In addition, enthusiasts come to watch the racing, as well as to see the cars and the people.
The track has about 10 actual turns, but there are 14 corners that are identified by their numbered communication locations. The track elevation difference is 175 feet, with the highest point being at the start/finish line and the lowest point at Corner 12/Canada Corner. Many of the corners and viewing areas have names that are prominently displayed on maps of the track. Walking around the track as an entrant or spectator is not an easy walk, but it is well worth the trip. Since the original construction in 1955, there have been numerous improvements to the track facility, such as a new pit/paddock complex, two new tunnels under the track, two new bridges over the track, repaving of the track, and extending the paddock area.
Two movies had filming done at Road America - "Winning" (1969) starring Paul Newman and Robert Wagner, and the IMAX movie "Super Speedway" (1997) featuring Mario and Michael Andretti. There was also footage filmed at the 2000 CART event for the newly released "Driven" (Sylvester Stallone and Burt Reynolds).
Events at Road America include a full slate of racing for current production and race machines (two wheel and four wheel), plus vintage race events, club events, and driver's schools. Road America hosts five major weekend events in 2001, including the SCCA June Sprints, Road America 500 Grand Am, and Motorola 220 FedEx Championship Series (CART). Vintage events include the SVRA event in May, the Brian Redman International Challenge event in July, and the Elkhart Lake Vintage Festival (September 21 - 23). Call 800-365-7223 (RACE) or visit Road America's website "www.roadamerica.com" for more information.
The Fall Vintage Festival was first held in 1986 as a non-spectator event, though now it is open to spectators. Each fall there is a car featured, and the 2001 Elkhart Lake Fall Festival vintage race will feature the MG. You won't want to miss it. For the drivers (when not racing) or for the spectators, there are an unlimited number of viewing areas to watch the racing. There are grandstands on the front straightaway and in Turns 1, 5, 7, 8, 12, and 14. There is also the VIP Tower/Media Center, or bring a blanket or lawn chair and view from almost any location you wish. Walk through the paddock area and view the cars, or chat with the drivers and crew as they are available. There are also on track vendors and a Road America shop to purchase something you can not live without. Spectator touring is also available for a limited number of people that want to drive their sports-type cars on the Road America track.
Another event not to be missed is the Elkhart Lake Street Race Circuit Tour held on Saturday, September 22. Drive it with your race vehicle or your street legal car to get a feel for what the original road course was like. Spend some time in downtown Elkhart Lake (pop. 1,019) and show off your car. The locals, as well as the out-of-towners, love to see them. While in town, you may recognize the age old names of the Osthoff Hotel, Siebkens Hotel, Schwartz Hotel, and Lake Street since they are still in Elkhart Lake, although there have been some changes.
Other considerations are shopping or vacationing in nearby Elkhart Lake, Plymouth, Kohler, and Sheboygan. Door County is a two hour drive plus there are a variety of other places that Wisconsin has to offer. If time permits, visit the Sheboygan County Historical Research Center in Sheboygan Falls and view some of their holdings related to road racing at Elkhart Lake and racing at Road America. Contact the Elkhart Lake Chamber of Commerce (920-876-2922 or 877-355-4278) for more information.
Come and enjoy the Elkhart Lake area and Road America during September 21, 22, and 23 when the MG VINTAGE RACERS FOCUS EVENT for 2001 will be held at the VSCDA Elkhart Lake Vintage Fall Festival. MG is the Featured Marque for the weekend. You will be able to drive a first-class race course - Road America, AND you can tour the original road race courses. Come and enjoy old friends, great racing, and excellent bratwurst. See you there!
Information was obtained from Peter Laun's The History of the Elkhart Lake Road Races 1950-1952; Tom Schultz's Road America: Five Decades of Racing at Elkhart Lake; and various articles from "The Sheboygan Press" and "The Milwaukee Journal".