Release date:  June 11, 2003
George Chilberg Wins MGVR's "Spirit Award"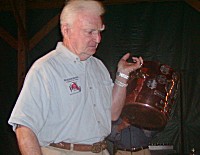 George Chilberg was chosen as this year's winner of the MG Vintage Racers' annual "Spirit Award" - also known as the "Big Copper Bucket".
This award is the highlight of MGVR's annual "Focus Event" weekend, which this year was staged at Virginia International Raceway's "Gold Cup" vintage race weekend of June 6-7-8. Over 70 MGs showed up to raced in the "All MG" feature race there, as well as racing in their regular vintage classes, setting a new track record for a MG race turnout. But the "Spirit Award" winner is not a race award - although it is for a MG racer.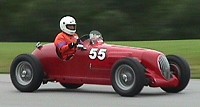 The winner is selected by a vote of the MG racers at the event. They select a MG driver from among themselves whom they feel best embodies the "Spirit of MG Vintage Racing". This year they overwhelmingly chose George Chilberg. This gentleman racer was racing his beautiful, supercharged 1933 L Type MG which he brought all the way from California to Virginia to race! He also brought it to race at MGVR's "Focus Event" at Road America in 2001! Not bad for a MG racer who is in his 70's!
Congratulations George!
Greg Prehodka, Publicity Coordinator
MG Vintage Racers' Newsletter (Since 1981)
pr@mgvr.org
MGVR on the web: MGVR.org
973-473-3888 (d/e)
Clifton, NJ 07012 (USA)
"The Past Racing Into the Future"