Release date:  June 12, 2003
MGs Race at VIR in "Focus Event"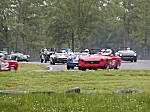 MG racers from all over the US and Canada swarmed down on Virginia International Raceway the weekend of June 6-8 for an incredible -record breaking weekend -of MG racing and MG camaraderie, in VIR's "Gold Cup" vintage race weekend. VIR is a first class race track in the beautiful rolling hills of southern Virginia. It's 3.27 mile course was a perfect venue for the record breaking 77 MGs which showed up to have some incredible dicing and fun with each other over the 3 day weekend.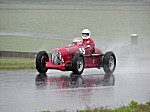 It also was the MG Vintage Racers' designated "Focus Event" for 2003 - where all their members were encouraged to attend the special "All MG" race at the track and supporting activities - and LOTS of them came! MGVR complimented the racing with their own dinner banquet Saturday evening at the track, where MG racer George Chilberg, of California, received MGVR's prestigious "Spirit Award" as voted by the MG race drivers there. Although in his 70's, George brought his 1933 L Type MG all the way from California to race here - he also brought it to race with them in 2001 at Road America! A true lover of MGs and vintage racing!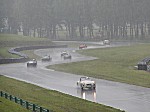 The "All MG" Feature Race on Saturday saw Jerry Richards take home top honors in his 1972 MGB/GT-V8, after a hard fought race with Les Gonda, Don Munoz, and John Target, in their MGBs. All four of them had their fastest lap times within 1.7 seconds of each other - WOW!. The race field was mixed with all types of MGs in various classes racing together. Other class winners included:
MGB - Les Gonda, 1964 MGB, Virginia
MGA - Bill Bartlett, 1959 MGA, Georgia
MGTD/TF - Manley Ford 1950 MGTD, Michigan
MGTC - Frank Mount, Ontario
MG Midget - Jack Cassingham, 1966 Midget, N.C.
MG Specials - Hank Giffin, 1952 Devin MG, Virginia
MG Pre-War - George Chilberg - 1933 L2 MG, California
Overall a great weekend of MGs, MG racing, and MG camaraderie at a wonderful racing facility. But stay tuned for next year where MGVR "Focus Event" will be staged in conjunction with SVRA at Watkins Glen in September 2004 for the 50th Anniversary celebration of the "Collier Memorial MG Race"! An incredible 100 racing MGs are expected for it! Follow us on the WEB at "MGVR.org"
Greg Prehodka, Publicity Coordinator
MG Vintage Racers' Newsletter (Since 1981)
Email:  pr@mgvr.org
Web:  www.MGVR.org
MGVR
"The Past Racing Into the Future"