Press Release
MG Vintage Racers' Newsletter (MGVR)
May 12, 2005




MG Vintage Racers" Name New Editor

After 10 years of dedication as editor of the award winning "MG Vintage Racers' Newsletter", Mark Palmer is stepping down, and Chris Meyers is taking over. The newsletter is the backbone of those enthusiasts racing vintage MGs in North America - with about 250 members. It was founded in 1981 by Greg Prehodka, and now Chris will be its 3rd editor. The newsletter is at the heart of communications between MG vintage racers, and it has worked with many vintage racing organizations to get special MG races - including the record breaking one at Watkins Glen in 2004 - where 143 MGs raced!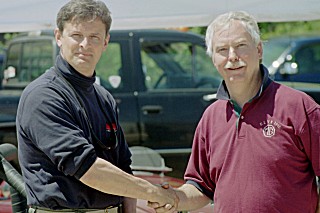 Chris actively races an MGA, and lives in Burlington, Ct. with his wife Julie, and their four children. A graduate Pen State Engineer, he's had many interesting cars over the years, but attending several "Lime Rock Park Vintage Festivals" in the 90's, got him interested in vintage racing. Then a Skip Barber racing school, followed by the purchase of an MGA for vintage racing. With the support of several MG vintage racers, he prepared his MG for vintage racing, joined the VSCCA, got hooked, and became an active vintage racer with his family's support, and now has stepped forward to take over the newsletter.
Chris has been active in other car clubs over the years and is now looking forward to his new role as MGVR editor, and supporting MG vintage racing, as it continues to grow. We wish him all the best, as he will lead MGVR into 2006 - when MGVR will celebrate its 25th anniversary!
To check out this unique and interesting group, visit their website at "MGVR.org"
---
May 12, 2005
For Immediate Release and Publication
Greg Prehodka, MGVR Publicity Coordinator
Email: pr@mgvr.org
MG Vintage Racers (Since 1981)
Visit us on the web: MGVR.org
"The Past Racing Into The Future"
MG Vintage Racers