Will Bowden of Orlando, Florida, was chosen for this year's "Bill Parish Award". Supported by MGVR and Parish-Heacock Insurance, it is annually presented at MGVR's Focus Event - this year HSR's "Mitty" at Road Atlanta - in memory of MG racer Bill Parish, to a MG racer at the event participating in Bill's past spirit of "Having the most fun, and being a Master of Speed Deception, while racing their MG over the years - unconcerned about race winning."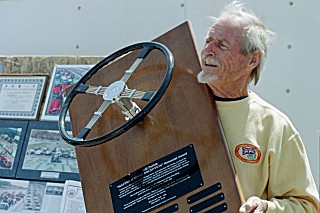 Will, a retired Merchant Marine Officer and aerospace engineer, got his first MG - a MGTD - in 1960 and was a founder of the "Classic MG Club" of Florida. His first vintage MG race was at Sebring in 1978 with his MGTF in a support race. In the 80's, he competed in many vintage races down south, including SVRA's "
MG Safety Fast Championships
" at Road Atlanta, and was a charter member of the "MG Vintage Racers" in 1981 . Will made special efforts to attend the MG races up north at Watkins Glen in '94 for the 40th anniversary of the Collier Cup, and in '98 for the Glen's 50th anniversary. And he was also noted for always bringing "
Lots
of extra MG parts
" with him to races - which he always graciously loaned out to other MG racers in need of them.
Now, even at age 71, he still has the MG racing spirit in him - still racing his same MGTF some 27 years later, now in the "Walter Mitty MG-Triumph Challenge Races", where over 100 MGs and Triumphs had a go with each other.
In past years, Will raced with Bill Parish, and now we're sure Bill is smiling up there, that Will is honored in his spirit. Where there's a "Will" there's a way!