Press Release
MG Vintage Racers' Newsletter (MGVR)
May 17, 2005




Marchant Voted MG Vintage Racers' "Spirit Award"

The "MG Vintage Racers" award their prestigious "Spirit Award" (also know as the "Big Copper Bucket") every year at their designated "Focus Event" - and for 2005 it was at HSR's "Walter Mitty" races at Road Atlanta, where over 100 MGs and Triumphs diced together in the "MG-Triumph Challenge."

The award's winner is selected by the MG racers. They vote for a MG racer there best representing "The Spirit of MG Vintage Racing". This year Lou Marchant, from Keller, Texas was voted the high honor.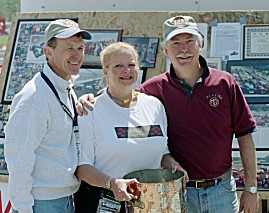 Lou's start in vintage racing began with a few "Test Laps" in her street MGTD at a CVAR race event several years ago. That hooked her and she bought a '59 MGA to race. It was "refreshed" for racing and 2001 became her rookie season - mostly with CVAR. Then she also began attending the MGVR "Focus Events". Lou spreads her enthusiasm about vintage racing to those around her: "It is hard to get the guys at work to understand the passion and enthusiasm I have for the sport! They look at me with a kind of scowl as I chatter away about it." She tells them: "You just have to DO IT! ... Other things just don't compare to the adrenaline rush you have after the pace car leaves the track, your heart is pounding - along with the engine's roar in our ears, and everyone in the group is going for that first corner."
Outside of racing, Lou is an engineer for Sun Microsystems, and her 10 year old daughter Julia has already said she wants to become a race car driver when she grows up.
---
May 17, 2005
For Immediate Release and Publication
Greg Prehodka, MGVR Publicity Coordinator
Email: pr@mgvr.org
MG Vintage Racers (Since 1981)
Visit us on the web: MGVR.org
"The Past Racing Into The Future"
MG Vintage Racers