Press Release
MG Vintage Racers' Newsletter (MGVR)
November 8, 2006
MG Racer Cassingham - "Driver of the Year"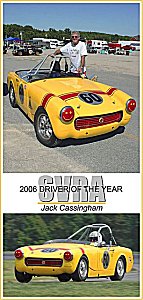 Jack Cassingham of Sherrills, North Carolina, has been awarded the highest honor of "Driver of the Year" by the Sportscar Vintage Racing Association (SVRA). This is on top of his receiving SVRA's "Most Improved Driver" award in 1998. Jack is a former US Marine Core fighter pilot, and a 727 / 737 pilot, who retired in 1996. But instead of sitting back and taking up golf, he took up vintage car racing. He became involved with friends in endurance racing and went to racing school to hone his skills. He purchased a basket case MG Midget, and with the magic touch of "Billy Coats" shop on the MG, and Jack's improved racing skills, he became a race winner! Jack said "We started from scratch and he taught me everything I know." Besides his MG, Jack has also raced a wide variety of other cars over the years, including a Datsun 300Z, and he has raced with HSR, SVRA,and VDCA, plus at Hallett, and VIR. He has also raced at a number of the MG Vintage Racers' "Focus Events". Then at SVRA's season finale at Road Atlanta this October, he was selected to receive SVRA's highest honor - "Driver of the Year" - thus joining a very elite club of top notch racers. Is Jack enjoying retirement - you bet!

************************************************
A
September 8th Photography
photo in high resolution is available (
contact: pr@mgvr.org
) to support this PR. It may be used with this press release as long as "September 8 Photography" is given photo credit. Low-res image shown to the right.
---

For Immediate Release and Publication
(Quality supporting MG racing photos, or MGVR artwork available on request)
MG Vintage Racers' Newsletter
Celebrating our Silver Anniversary in 2006
Greg Prehodka, Publicity Coordinator
MGVR on the web at: MGVR.org
November 8, 2006
"The Past Racing Into The Future"
MG Vintage Racers