Press Release
MG Vintage Racers
November 9, 2007
MG Races at Mid Ohio
The MG Vintage Racers had their annual "Focus Event" with VSCDA at Mid-Ohio in October. 63 MGs came from all corners of North America for three days of racing under Ohio sunshine. MGs from a 1932 J Type to MGBs showed up to have a go of it. Three "All MG" races were included ? one for "Fast MGs," and one for "FASTER MGs" and an all MG Tag Team Race, in addition to them all racing in their regular VSCDA. And for the featured event of the weekend, the all MG "Denver Cornett Memorial Tag Team Relay Race" was a BLAST for everyone ? racers, crews, tag team runners, and spectators! Teams of 3 MGs each were made up by the handicapper. The first MG of each team would do three laps and then pit and tag off the 2nd MG on its team by using the team's tag runner to pass a lanyard onto the next team car driver. Repeat 2nd team car. The team's third car took the checkered flag. Ten teams vied for the honors, as the lead changed several times, with everyone cheering on their team's cars and runners! On the third leg, the MGA of Lou Marchant got off her mark in the 4th position. She raced her MGA as hard as she could moving up three positions to take the checkered flag with a margin of victory of less than three seconds! WOW! The winning team include Lou (Texas), Ed Cronin (TD, Pa.), and Butch O'Connor (MGB, N.J.). In celebration, on the winner's podium they sprayed Champaign all over the cheering crowd! Lou later reflected:
"As I sat on the grid, all I could hear was my heartbeat pounding in my ears and I thought to myself one last time not to screw up, and drive the fast line. I forgot to count how many cars were launched in front of me but I knew that it was all over when they dropped the checkered flag! As I came into the pits, everyone was clapping, cheering and giving me the thumbs up! Then on the podium where we were awarded the champagne and silver cups! It was a race weekend that was a dream come true!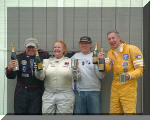 To compliment the weekend's racing, MGVR had its own party Friday evening, and VSCDA had their party Saturday evening. MGVR presented their "Big Copper Bucket ? Spirit Award" to MGTC racer Frank Mount from Ontario Canada, as a MG racer there, voted by his peers, as best capturing the spirit of MG Vintage Racing. He first raced a MGTC 49 years ago! And then the "Bill Parish Memorial Award" was presented to Linda Yates of Texas, as a MG enthusiast just out to have fun in vintage racing. Plus special recognition was given to MG racer Denver Cornett, who passed away last year. He raced his MGTC in the first race at Watkins Glen in 1948 and entered vintage racing in his later years. His son Denny and Denver's wife Sherri joined us at the dinner as MGVR honored Denver.
Now, setting the stage for 2008, MGVR for the first time will stage two "Focus Events." First, a west coast at Laguna Seca in March, and then an east coast event in September with VRG at the new "Thunderbolt Raceway" in southern New Jersey. For more information see our web site: "MGVR.org".
********************************* END
(Note: this PR also available as a MS Word document on request)
A Photo is attached with this PR of the winners of the MG Tag Team race on the winner?s podium. They are:
Daniel Mainzer Photo. If you use this photo, photo credit must be given
Winning MG Tag Team on the winner's podium
Left to Right:
- Butch O'Connor, MGB, New Jersey
- Lou Marchant, MGA, Texas
- Keith Murphy, team tag runner, New Jersey
- Ed Cronin, MGTD, Pa.
Other photos available on request to go with this PR include:
Photo 1
Daniel Mainzer Photo #06
Racing on the track. MG J2 with MGTD behind it, in a corner.
Front 1932 MG J2 of William Goulette of Waunakee, Wi
Rear: 1952 MGTD of Manley Ford of Milford, Mi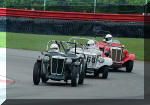 Photo 2
Daniel Mainzer Photo # 08
Three MG T's neatly bunched drifting through a corner.
Front Car: 1948 MGTC of Bob Grunau of Mississauga, Ontario
Middle Car: 1954 MGTF of George Pardee, of Clearwater, Florida
Rear Car: 1950 MGTD of Jeff Brown of Pittsburgh, Pa.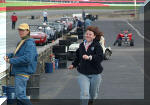 Photo 3
Daniel Mainzer Photo # 10
MG Tag Team race - Tag Team runner in action.
Background of photo - MGs are parked that have come in after doing their 3 laps and have handed off their lanyards to their tag team runners to tag the team's next car.
Vicki Leonard has her team's lanyard and is running to tag off the team's next car.
Her team is: Stan Edwards-MG Midget, Mark Brandow-MGTC, Dan Leonard-MGTD

Photo 4
Daniel Mainzer Photo
MG Group Shot of all the MGs racing at Mid Ohio.
MGs racing at Mid Ohio - group shot. Panoramic style photo.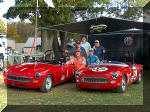 Photo 5
John Ruth Photo
Team photo. Two MGs parked, with their drivers and crew next to them.
- 1965 MGB # 1 of Jim Austhof of Alto, Michigan
- 1965 MGB # 52 of John Ruth of Canton, Michigan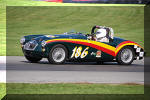 Photo 6
Don Butler Photo
MGA # 186 of Lou Marchant of Texas, on the track racing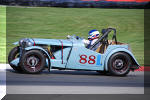 Photo 7
Don Butler Photo
MGTC # 88 of Martin Walford, on the track racing.
(note: this TC is owned by Dean Butler. Dean had Martin come from England to race it at Mid Ohio for him. Dean could not make the event. Dean is from Ohio, but also vintage races in England and in Europe)
- This article may be edited to meet the publisher's needs. Again ? photos described above available on request.
Greg Prehodka
MG Vintage Racers
Publicity Coordinator
E-mail: pr@mgvr.com
November 9, 2007
"The Past Racing Into The Future"
MG Vintage Racers